Check out my new website:
RaleighTwenty.webs.com
I have been harbouring a desire to own a Raleigh Twenty. I did research and found that they were in production from 1968 to 1984 (folding version introduced in 1971).
The late Sheldon "Capt. Bike" Brown owned a number of them
http://sheldonbrown.org/raleigh-twenty.html
including one which had built as a fixed gear version. His fixed-gear Twenty later received an 8-speed Sturmey-Archer hub which a gear range of something like 33 to 101 gear inches - better than most 80's mountain bikes!
I managed to score one off the trading section of a bicycle forums I lurk around and it is currently in the post on it's way to my doorstep. I can't wait for it!
Anyway, here is a picture of it taken by the seller: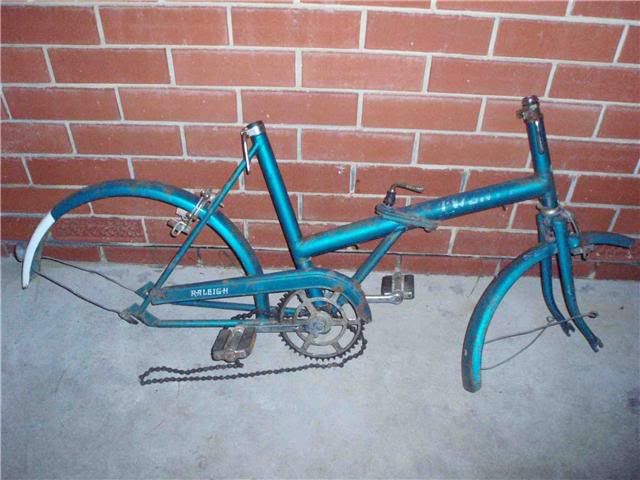 I have most of what I'll need to get it back on the road. I scored a set of alloy 20" wheels off council clean-up just around the corner from my house (an extremely lucky find!) and a while ago I bought a cheap folding bike for $20 off the internet, which is going to give up it's alloy stem and handlebars. I also have a Dahon Classic III with a damaged frame, so that may also yield some useful odds and ends.
A major advantage of owning this will be that Cityrail is running a trial where folding bicycles are not required to have a child ticket during peak periods any more. There are also a number of technical advantages, but I'll wait until I have completely road-tested them before reporting those here.