CLICK HERE TO MAKE A DONATION TO MS AUSTRALIA
Yup, I took part in the 90km ride from Sydney to Wollongong through the Royal National Park. This is an official photograph somewhere along the last 15km or so rolling eventually into the Gong. This ride is a new personal best for distance, I covered a total of 95km (based on map measurements). I now wish I rode that extra 5km to make a metric century! My previous best was 47km.
It's a bit of a brave face. Climbing out of the Royal National Park was pretty exhausting. After those climbs were completed even moderate hills made me shift into the small (28T) chainring. Most of my ride training had been on fairly flat cycle-ways that follow the creeks around Fairfield City.
Crossing Seacliff Bridge. The bridge was built between 2003 and 2005 after a particularly bad landslip blocked Lawrence Hardgraves Drive so badly that it called for a permanent road closure. The bridge is a permanent solution for what was otherwise an unsuitable road location along the escarpment.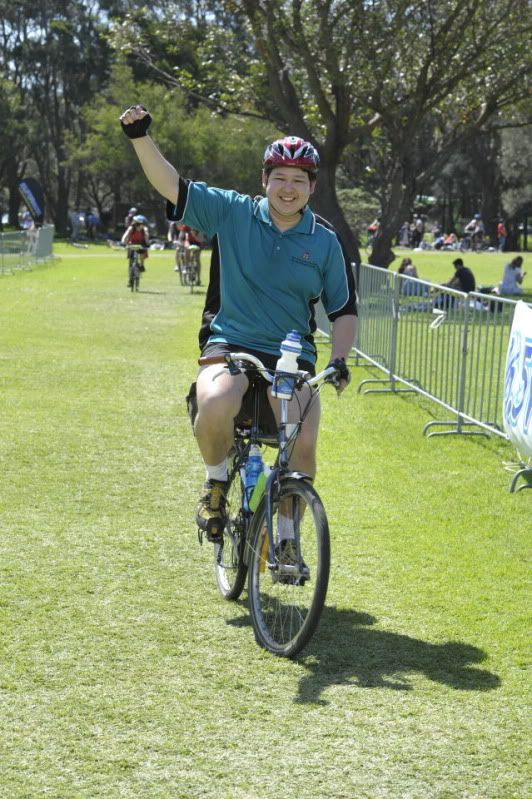 My total ride time was 7 hours. The bicycle you see in the picture is my expedition bicycle. It weighs 17kg unladen. Obviously not the ideal choice for the Gong ride. It's more at home with 4 pannier bags and camping gear.
Fund-raising continues until November 18th.
CLICK HERE TO MAKE A DONATION TO MS AUSTRALIA