Here are some pictures of my bicycle. It was a re-cycled 26" Mountain Bike I got from Western Sydney Cycling Network. These people save old or redundant bicycles and re-cycle them into useful machines again. The bicycle you see is being used to commute to TAFE, 3 days a week and is ridden to visit friends, go to church, going shopping and also being ridden for the sheer heck of it.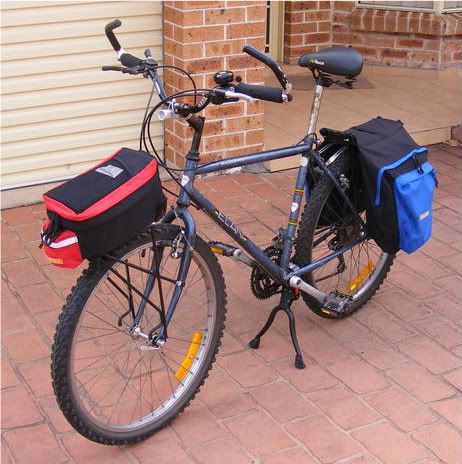 In this front view you can see the Blackburn MTH-1 Front rack with a Tioga Rack bag on top. Alloy riser handlebars give me a more upright riding position - about 75 to 80 degrees, so not quite a true 90-degree comfort bicycle. The gel seat is from Tioga. It's quite good for short rides, but your backside can get sweaty on longer (+2 hours) rides. More breathable shorts will probably help, but the ultimate would be to get a Brooks Leather saddle. Just visible is my front light - the original plastic mounting was rubbish and took a couple of weeks to disintegrate. Now it is just cable-tied to the handlebar and stem. The two-prong stand was an investment. When I got the bicycle, it didn't have a kick-stand. The weight of the panniers and other equipment would make it impossible for this machine to use an ordinary lean-to kick-stant. I am told that this is the same type as what Australia Post uses on their bicycles, which are required to carry up to 45 kg's of mail. I can vouch that they do what they are supposed to.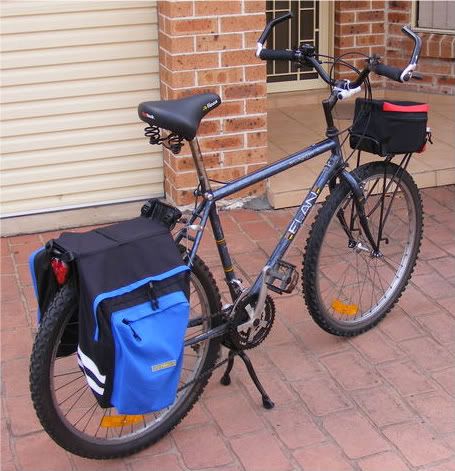 Tioga one-piece rear panniers. Definately NOT an up-market item, but I have successfully taken all my TAFE books and clothes in these the 6km each-way commute in them. The rack is an alloy touring model from Tioga. The light on the rear rack is a Blackburn Mars 2.0 - in my opinion the best rear light. It has two bright yellow LED's which flash side-ways. Whilst these are mostly hidden by the panniers, the extra lighting is useful for being seen at night. I also wear a hydration pack whilst riding, which carries two red flashing lights available from Dick Smith Electronics for $5 each. The seat-post mounting is rubbush, but they can be worn on your belt, pants or (as I do) on your hydration pack, which they do beautifully. From the rear I am lit up light a Christmas tree, which will hopefully mean I won't get run over whilst on the road!
Since these pictures were taken, I have bought a rear frame bag from ALDI. This was a great little bargain, and now it holds my tool-kit, and I plan to use it to carry a spare inner-tube too.