On Saturday I went into the city to see the Royal Australian Navy's Freedom of Entry Parade. I then went down to Darling Harbour and took a look around. It is a nice place to go for a slow bike ride and sight-seeing. Coming back across the Pyrmont Bridge I saw some people riding along and heading towards a cycle-way which lead into the city. I thought I was try this cycle-way and find a train station to head home. Unfortunately I got lost (didn't have a map of this area), so two people riding vintage Raleigh bicycles lead the way and helped me get to Circular Quay, where I then got the train home. They allowed me to take a picture of their bicycles, which I thought were absolutely fantastic. The male bicycle is a 1977 vintage Raleigh and the female bicycle is a 1967 "Superbe" which was one of Raleigh's top-line models.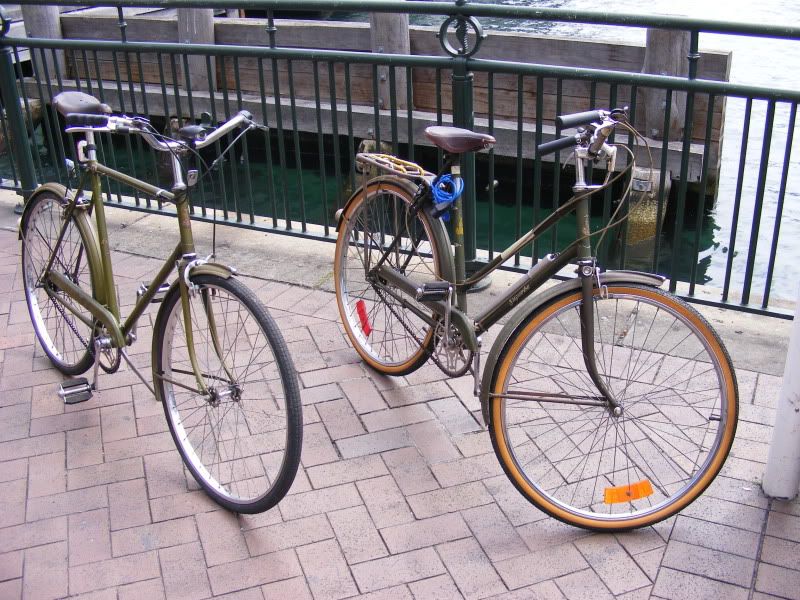 A his and hers pair of vintage Raleigh Roadster Bicycles.
They were quite enthused to see my Raleigh "Utility", which I had recently acquired. We had a marvellous chat about vintage bicycles as we rode along through The Rocks in Sydney. There are quite a few very good urban cycle-ways in Sydney, which I ought to explore.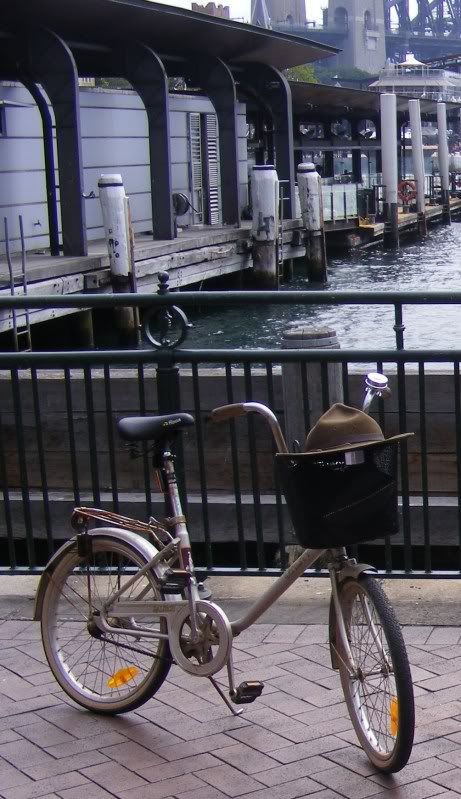 My Raleigh "Utility", a non-folding version of the later-styled Raleigh "Stowaway"
.
I believe this to be one of the lesser-known members of the Raleigh Twenty family.
I sent them an email with the photos I took, and invited them to the Sydney Tweed Run. http://sydney.tweedrun.info/
I have acquired an old Malvern Star Skidstar Standard - the straight-framed and slightly nerdy version of the more popular Skidstar GT. It is largely complete, but with a horribly mangled rear wheel. I had to cut the last few unbroken spokes because their nipples had rusted on solid. I have saved the rim, and will have to try to turn it back into a circle and braze the cracks that have developed. If worse comes to worst I will have to acquire a new (hopefully original) rim.